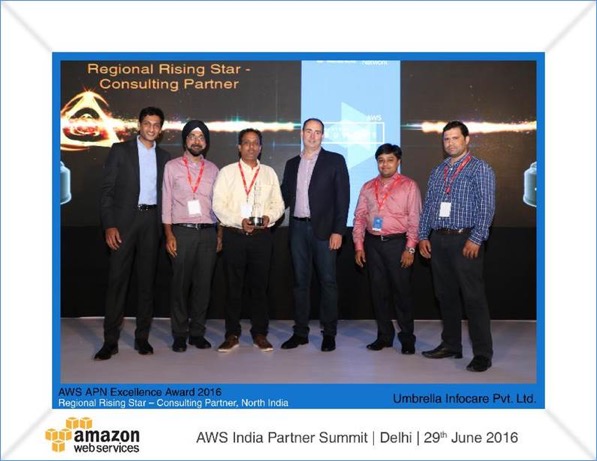 Umbrella Infocare has been selected by AWS as Rising Star Partner in North India—a recognition of the company's high performance, its capabilities, growth strategy and strategic vision. The award is based on a vote by Amazon team which takes into consideration a range of performance parameters.
A winner under AWS APN Excellence Award 2016, the award reflects Umbrella's coming of age within a short time. Started in 2013, Umbrella has been able to quickly ramp up its presence in the market implementing more than 100 cloud deployments across industries which includes media, pharma, legal, retail, logistics and manufacturing. These deployments span different customer segments from start-ups to very large and complex enterprise deployments.
Reflecting on the company's achievements, Gurprit Singh, Director and Co-Founder said, "Our vision is to focus on cutting-edge technology, primarily cloud, mobility and analytics. AWS is the right platform to realize our vision. We are happy that AWS has recognized our efforts and selected Umbrella for the Rising Star Award."
Sanjay Agarwal, Director and Co-Founder adds, "Cloud is the key thrust at Umbrella and the Rising Star Award by AWS is an endorsement of our strategic vision and efforts to achieve it. Our commitment to Cloud is evident in all our initiatives—the kind of hiring we do, the kind of customers we target and the nature of projects we have executed."
The company has a diverse set of capabilities in enterprise IT, mobility, disaster recovery, digital marketing and Dev Ops. The range of client engagements across different verticals amply demonstrates its capabilities.